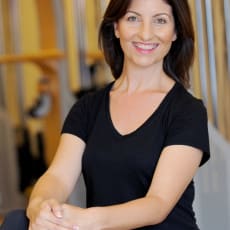 Betty Townsley
Pilates & GYROTONIC® Instructor
Betty is a native of Australia. Pilates was recommended to her for rehabilitation due to a car accident in 2002, which led her on her journey to find ways to strengthen her body and achieve overall health. After experiencing the amazing benefits of Pilates for many years she decided to become an instructor.
She studied Pilates with Marie-Jose Blom at Long Beach Dance Conditioning as well as with Body Arts and Science International. Betty Studied GYROTONIC® with Authorized Master Trainer Sebastian Plettenberg at GYROTONIC® Manhattan.
Betty is a dedicated and passionate teacher who strives to bring out the best in herself and her clients. Her mission is to show her clients how to experience their bodies in a whole new way to enjoy the strength and freedom acquired by her training.