I have been dancing, teaching and taking movement classes all my long life. I feel so blessed to have found Shevi. She is one of the best teachers I have ever met. She knows how teach with precision, generosity and patience. Since taking class with her I feel healthier and more alive. Her classes have been my life raft during the pandemic. Outside of class she is available to help me with any new aches and pains. Shevi is a treasure.


I have many times referred to Shevi as my angel. Not too long ago I was diagnosed with age-related neuropathy and at the same time began to experience pain in my right hip that I thought may have been caused by arthritis. Shevi has helped me tremendously in dealing with both of these. Using Zoom she is able to record many of the group classes and private sessions that I have had with her so that I can repeat the exercises on my own.
Shevi persists in providing me with new things to try, often adding extra time to our private sessions in her efforts to help me. She is the most giving person I have ever known, a true angel!!!

I'm able to exercise and use my entire body much more, and I'm now back to walking and playing golf!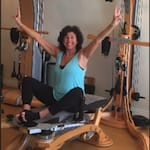 I've gained a dramatic change in posture, I have no more shoulder pain, and my shoulder is feeling as flexible and strong as ever!



My husband and I have been working with Shevi at Body Rhythm for a few years now and we LOVE it! Shevi has such incredible and in depth knowledge of the body and has helped us so much with whatever aches and pains we might be suffering from as well as with our posture, alignment, etc. We highly recommend!!

I met Shevi Baruch after I was in a life altering car accident followed by two years of surgeries and procedures. I was told by my physicians that I would never walk normally again. Prior to the accident I had spent over thirty years doing martial arts and Qigong. I knew how to move and maintain a body that was in postural alignment, but I had no idea how to move my broken twisted disabled body. Without Shevi's help and expertise I would never have been able to regain physical ability from my physical disability and use and apply what I had learned inside the Dojo and get to the future moments that I wanted in life.